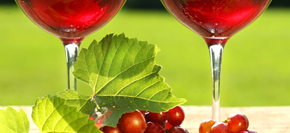 Our Seasonal Favorites
Enjoy the seasonal favorites in celebration beverages. Sparklers of all sorts come out in abundance during the winter holidays. Red blends and rose' complement early spring grilling.
---
SPARKLING WINE
Ranging from bone-dry to sweet, toasty to fruity, with the common theme of bubbles.
For toasty and rich: Champagne
Crisp, refreshing with citrus: Prosecco
Sweet and fruity - Moscato d'Asti
Try…
Korbel Brut as an aperitif or even with French fries!


WHITE & RED BLENDS
One of the hottest trends on the market, blends take the best of each grape and put them all in one glass. The options are endless.
Try White…
Cupcake Angel Food with white cheddar.

Try Red…
Menage a Trois with grilled meats or chicken.


ROSE
Pink wine made from red grapes. These are light and refreshing wines, ranging from dry to sweet. Enjoy these chilled with light meals and grilling fare.
Try…
Remy Pannier Rose d'Anjou with any light fare.